A single phone number to connect them all!
The growing usage of VoLTE and VoWi-Fi is calling more and more for an interrelation between the existing fixed/mobile networks and the IMS Core. This will allow subscribers to have just a single phone number that will provide connectivity over different devices in different networks across different technological domains.
Matching ISDN with Internet addresses for a maximum reachability
Opencode's iENUM (TElephone NUmber Mapping) is a solution that boosts the subscriber reachability by matching the international ISDN E.164 address with Internet addresses (URL or IP address). This approach allows the use of the phone number as a search key in the DNS (Domain Name System) to determine the method for reaching the B-number. Opencode iENUM combines ENUM with DNS services on Opencode iSDP Super Telecom Application Server to provide a solution that also meets commercial/enterprise solution requirements such as private LTE and public safety networks.
iENUM - a pioneer in addressing subscribers' IMS multimedia services
Opencode iENUM allows the number resolution to be independent of the IMS multimedia services the subscriber is using. A straightforward number resolution solution that simplifies the network architecture and reduced the associated CAPEX and OPEX. Opencode iENUM cuts also short the time-to-market of new IMS services such as Voice and Video over Broadband, IM (Instant Message), RCS (Rich Communication Suite), VoLTE, etc.
Example of integration: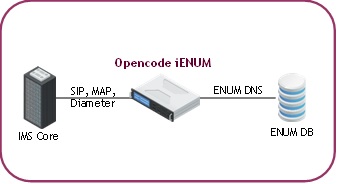 Highlighted features:
Complies with IETF standard (RFC 2916, 3953, 6116, 6117)
Complies with GSMA NG.105 recommendation
Parses various types of ENUM NAPTR (Name Authority PoinTeR) DNS query formats
Integrated with Tier 0, Tier 1 or Tier 2 ENUM databases
MNP lookup over SS7 MAP or Diameter
Acts as a SIP proxy for mobile originating and terminating VoIP calls
Enables ENUM-based routing in IMS core network (integrates with S-CSCF)
Acts as an O-TAS for originating calls and T-TAS for terminating calls
Flexible CAPEX and OPEX purchase models
On-premise and in-the-cloud deployment options
Fully-featured and secure user-friendly web interface
Business reports and statistics
Multi-level logging
Fault handling and SNMP alarming
Simplex, high-available and geo-redundant configurations