Addressing the needs for easy and flexible call management, screening and sponsoring
Opencode Call Filtering Services provide all needed core network capabilities enabling both the operator and the subscribers to easily block or allow voice, video and messaging calls in real-time or at different time periods. Moreover, operators can easily introduce sponsored call completion.
Makes call filtering options convenient to use and available at any time
Opencode Call Filtering Services allow operators to provide their subscribers with the best user experience when it comes to call filtering. For example, blocking an obtrusive caller prior to call completion, during the call or after its termination, can be achieved easily and using the subscriber's preferred channel (IVR, USSD, SMS or web). The system uses powerful network browsing engine providing subscribers with interactive call filtering options conveniently at any time.
Variety of options designed for handling unwanted and desired calls and messages
Subscribers of the Call Filtering Services can selectively identify, prevent or allow calls, and use adapted self-care to manage their personal call management environment and access variety of options such as time-based filtering, chargeable and non-chargeable screening events, notifications, reports, announcements, user group handling, call prioritization etc.
Client free technology fully controlled by the core network
Opencode Call Filtering Services is a core network service and does not require any deployment or house-keeping of handset clients.

Example of integration: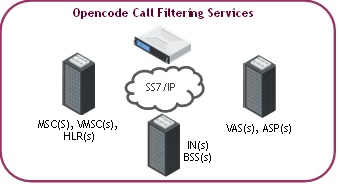 Highlighted features:
Network-based, Client-free technology
Filtering of voice, video and messaging calls in real-time and at different time periods
Blocking of obtrusive calls and messages in a controlled and an automated manner
Subscriber notifications for filtered call attempts
Selective Call Rejection
Dynamic call sponsoring module
Online and offline integration of third party sponsors
Chargeable and non-chargeable filtering events
Multi-Channel Service Delivery (Voice call, 3G Video call, SMS, MMS)
Multi-Channel Service Activation (IVR, USSD, SMS, WEB)
Self-care for optimized blocking performance
Multi-language support (end-to-end)
Open, hyper-language driven system
IN SCP/SSP Call Filtering engine