Deliver real-time network services for subscribers at home or while roaming.
CAMEL is today's standard for real-time network services and prepaid roaming. Opencode's iCAMEL Gateway is an off-the-shelf solution minimizing CAMEL upgrade and support costs while delivering a higher return on investment.
CAMEL Gateway solution with multi-purpose network usage.
Opencode iCAMEL Gateway can be used to address a multitude of network needs such as Voice and Data Charging Gateway, Roaming Gateway, Service Switching Point (SSP) Gateway, Service Control Point (SCP) Gateway, Proxy HLR and others.
Example of integration: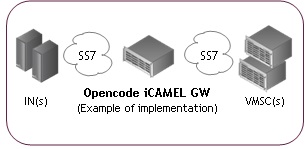 Highlighted features:
In and Out Roaming Compliance
Roaming Data Node
Roaming CDR generation
Voice Charging
SMS Charging
USSD Charging
GPRS Charging
XML Application Server
IN Service Mobility
Owned, In-house developed and customizable SS7 stacks
ETSI TS 129 078 conformance
CAP Ph. 4 conformance
MAP Phase 3 conformance
Major network vendors' INAP conformance
Interface translation for gsmSSF, gsmSRF, smsSSF, gprsSSF, gsmSCF
ISUP translation