Radically new SIM concept aimed at IoT
The ever-increasing number of companion devices and connected machines forced MNOs to dive much deeper into the Internet of Things (IoT) industry and the accompanying new SIM technologies. eSIM (embedded SIM) and iSIM (integrated SIM) have been introduced by GSMA standardization organization to meet specific IoT and companion device requirements such as low power consumption, extremely small size, etc. The role of the SIM remains the same, but the way it is loaded into the devices is radically new - SIM cards are no longer issued by and bound to a specific MNO but come integrated into the devices.
Challenging SIM supply chain models
eSIM/iSIM allow subscribers to switch between MNOs just by interactively downloading and then installing new MNO profiles on the same eSIM/iSIM – all this without any visit to an MNO PoS and the need of a new physical SIM card. Obviously, this breaks the traditional SIM provisioning supply chain models and poses another challenge to the MNOs.
A secure and simple Remote SIM Provisioning enabler
Opencode eSIM Manager is specifically developed to solve the above issue as it allows an automatic Remote SIM Provisioning (RSP) to be established at the same time of the eSIM/iSIM activation. In this way, the MNO will have an easy and simple way to expand into the fast-growing IoT-related automotive, wearables and consumer electronics realm while reducing SIM logistics and supply chain costs. Opencode eSIM Manager is particularly suitable for both 'direct-to-consumer' and 'business-to-business-to-consumer' channels, especially in the IoT market.
Example of integration: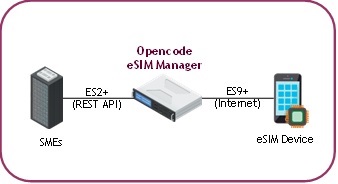 Highlighted features:
Compliant with GSMA SGP.22, SGP.02
Compliant with remote eUICC management security recommendations
MNO profile download in IP PUSH or IP PULL modes
Operator Profile Lifecycle management
Acts as an SM DP+ (Subscription Manager Data Preparation +)
Standard ES9+ and ES2+ interfaces
Multi-network support
ICCID generation and assignment to the eSIM
REST APIs exposure to the MNO's backend systems
Flexible CAPEX and OPEX purchase models
On-premise and in-the-cloud deployment options
Business reports and statistics
Multi-level logging
Fault handling and SNMP alarming
Simplex, high-available and geo-redundant configurations