Enables a seamless switch to a new mobile identity, with or without change of operator.
When mobile users need to change identities, they can find the available porting procedures complex and time consuming. Opencode's My New Number is an easy and instant solution for seamlessly switching to another mobile identity. The service also helps mobile operators attract new high-end subscribers from the competition, who do may not offer their customers a solution for quickly changing GSM lines and updating their contacts in a non-obtrusive manner.


Convenient and simple service creating value and delivering a great user experience
Opencode's My New Number is installed on the new operator's network. Each call to an obsolete line is automatically routed to a special announcement explaining the change. The new number is automatically delivered by SMS, and a second SMS alerts the subscriber of each call to his/her old line.
Example of integration: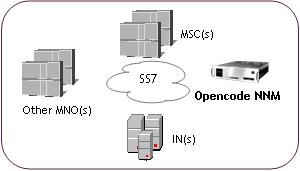 Highlighted features:
Regulation proven
SMS alert to calling party for called party number change
SMS alert to the new number for old line received calls
Special announcement support
Custom notifications
List management and Self-care
One-time or recurrent service billing
Prepaid, postpaid and roaming call setup support
Configurable Call Sequences
More Details
Download Brochure
Slides
Contact Us