Answers roaming subscribers' needs while retaining customers and preserving network revenue
With Opencode iSeamless Callback roamers can place budget calls seamlessly or as a USSD string. The solution reverses originating and terminating calling flows and thus provides attractive pricing and flexible charging options.
Major roaming revenue opportunity
Roaming is a vital revenue stream for any mobile operator but today roaming revenue continues to decline worldwide and the interest in competitive roaming services has increased. Opencode iSeamless Callback offers cutting-edge CAMEL and USSD calling options which will enable mobile operators to grow roaming traffic and capture more roaming revenue.
Save on network expenses while securely enabling new roaming services
Thanks to the native support of CAMEL and USSD in all today's mobile networks, the operator does not need to change the core network. Installed in the home network, Opencode iSeamless Callback will securely handle and control all roaming CAMEL and USSD call requests and callbacks.
Example of integration: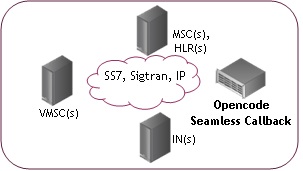 Highlighted features:
Seamless end-user dialing with CAMEL network control
USSD String, USSD Menu end-user dialing
SMS end-user dialing
Configurable connection, drop call and automatic redial sequences
Pre-call, In-call and Post-call built-in or network announcements
IN, SN, Loop-back and hybrid call setup
USSD Voicemail and Call Center callback
On-net and off-net roaming call management
Real-time legacy charging – using CAMEL, Diameter or BSS vendor-specific protocol
Can delegate charging to the network
CAMEL call negotiation and control
Reverse charging