Open infrastructure media server addressing the needs of today's and tomorrow's leading mobile networks
Opencode Systems SIP & Media Server leverages the simplicity, openness, and flexibility of an innovative hyper-language driven environment and engine. Opencode SIP & Media Server provides all needed core network capabilities allowing deployment of sophisticated voice, video and data services in IN and IMS centered mobile networks.
Interactive Browsing and Multi-Channel Services Deployment
Opencode SIP & Media Server is engineered as browsing system allowing mobile operators to quickly deploy sophisticated new services and subscribers enjoy the best user experience. The system offers native multi-channel support dramatically reducing resources on service design and operation and at the same time deploying on all channels - IVR, 3G Video, Mobile Broadband, WEB, WAP, USSD, SMS. For example, users may browse a Video IVR (such as Video Ringback Tone) on USSD, then view the content as a 3G video callback.
Intelligent Peripheral for IN and IMS Assistance
Opencode SIP & Media Server is an integral part of next generation networks. It leverages standard IN Intelligent Peripheral SRF (Specialized Resource Functions), while addressing IMS MRF (Media Resource Functions). The system includes SSP and SCP core network mechanism conveniently simplifying integration.
Example of integration: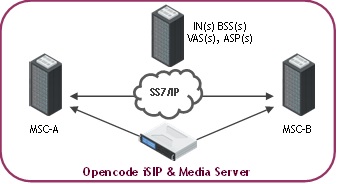 Highlighted features:
All generation network integration (Conventional, IN, IMS, VoIP, hybrid)
Scaling in hundreds of E1/T1 trunks
Multi-Channel Service Delivery (IVR, 3G Video, Mobile Broadband, WEB, WAP, USSD, SMS)
Intelligent Peripheral acting as IN SRF, IMS MRF and conveniently as IN SCP/ SSP
Hyper-language Driven System
SS7 and VoIP Signaling Gateways
SS7 and VoIP Media Gateways
Multi-language support (end-to-end)
Network Integration Protocols:
SS7/SIGTRAN/VoIP protocols including ISUP, SIP, MAP, INAP, CAMEL and others
IT protocols including enhanced VXML and CCXML, Soap, HTTP and 20+ others
Comprehensive Charging Events, CDRs and call statistics