VoLTE calls for an effective bandwidth and QoS policy management
VoLTE (Voice over LTE) is a typical mobile network technology that enables IP-based high-definition voice service experience across a multitude of different devices and end-points, using the IP Multimedia Subsystem (IMS). Unlike the Circuit Switching (CS) domain where calls are delivered with a fixed QoS and bandwidth, in the Packet Switching (PS) domain, the voice channel competes for bandwidth with all the other data services. Consequently, an effective data network policy management is essential for VoLTE service delivery and monetization.
Differentiation and prioritization of traffic flows
Opencode's VoLTE PCRF is designed to properly reserve and prioritize the appropriate network resources so that VoLTE QoS requirements are met. A key component in the LTE network, the system provides the association between the service and transport layers and is the central QoS decision engine. Opencode VoLTE PCRF enables the network to recognize and differentiate traffic flows - a fundamental LTE concept. The system also provides a granular control of service quality, which is crucial for managing resources, establishing new business models, and monetizing HD voice services.
Example of integration: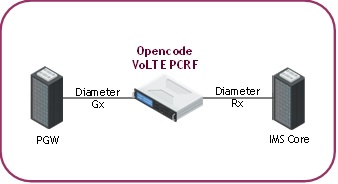 Highlighted features:
Compliant with GSMA recommendations for VoLTE/VoWIFI procedures
Support of Diameter Rx and Gx 3GPP Interfaces
Support of other 3GPP IMS standard Diameter interfaces on-demand
Diameter transport over TCP or SCTP
Support of custom AVPs (Attribute Value Pairs)
VoLTE Bearer Fixed Policy Control
VoLTE Bearer Dynamic Policy Control
PCC rules configuration from user-friendly web interface
SOAP/RESTfull Provisioning Interface
Optional LDAP Interface
Flexible CAPEX and OPEX purchase models
On-premise and in-the-cloud deployment options
Business reports and statistics
Multi-level logging
Fault handling and SNMP alarming
Simplex, high-available and geo-redundant configurations