Public Warning and Wireless Emergency Alerts (WEA) broadcast
Opencode iCell Broadcast Center (iCBC) allows public authorities and Service Providers to deliver emergency alerts and other useful information to millions of mobile subscribers using cell broadcast technology. The alerts can be sent in multiple languages to a single radio cell, clusters of cells or even all mobile networks in a country. The solution allows to timely assist impacted population and first responders with life-saving and disaster management information. In the era of digital communications, Opencode iCBC is an indispensable platform for managing natural disasters like extreme weather, fire, flood, earthquake, tsunami, as well as public disruptions like epidemics, terror attacks, industrial accidents, etc.

Employing the latest Public and Early Warning System (PWS/EWS) standards
Opencode iCell Broadcast Center as a critical national disaster management tool, supports several standardized emergency alert services such as: European Public Warning System (EU-ALERT), Commercial Mobile Alert System (CMAS)/Wireless Emergency Alerts (WEA) and Earthquake and Tsunami Warning System (ETWS). Generated alerts comply with the latest specifications of the emergency industry such as, the Common Alerting Protocol (CAP) and ATIS. The alert broadcast actions and parameters such as priority, severity, category and others available in the alert management interface, iCell Broadcast Entity – CBE, are received by the Opencode iCell Broadcast Center, processed effectively and disseminated to the mobile Radio Access Network as per the appropriate 5G/4G/3G/2G 3GPP standards.

Synergies and broader alerting coverage
Opencode iCell Broadcast Center (iCBC) can be complemented with our
Opencode iCell Broadcast eXpander (iCBX)
that adds further channels like, SMS, radio, TV, public digital signages, social networks, sirens, etc.
Multiplying alerting channels gives authorities greater broadcast flexibility and even bigger user-reach depending on the severity, the type and the magnitude of the threat.
Absolutely all networks and all mobile phones have cell broadcast capability
Cell broadcast is a global technology, standardized for all networks (5G, 4G, 3G, 2G). As such it is supported by all handset manufacturers and mobile operating systems (Android, iOS, etc.). Also standardized, authorities are provided with flexibility to implement country-specific alert setting and activation customizations.

Real-life proven platform with 100% reliability record
Opencode Systems, leader in cell broadcast based Public Warning Systems (PWS), has successful deployments on four continents, including the largest deployment in Europe. Over the last years Opencode iCell Broadcast Center has become an important government and service provider infrastructure for wireless public warnings. During the COVID-19 global disease outbreak our platform, a key component in pandemic management and response, has been regularly used to broadcast public health campaigns to tens of millions of people.
Example of integration: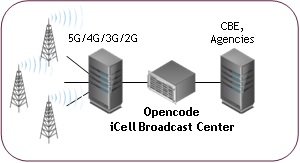 Highlighted features:
Supports EU-Alert, WEA, CMAS, ETWS
Compliance includes 3GPP TS 23.041, 3GPP TS 23.038, TS 29.168, TS 22.268
Supports AMF, MME, RNC, BSC network entities
Supports CAP 2.1 and ATIS
Optionally, supports SMS, radio, TV, sirens, social network channels
Text and Binary Message support
Long text and paging management
Multi-language support (TS 23.038 and ISO 639)
Multiple communication parameter control (Message ID, SN, Cell IDs, Coding scheme)
Automatic service activation via USSD/SMS+OTA
Over a map (GIS) definition of virtual areas
Broadcast campaign to target areas
Channel broadcast calendar with repetition schedule and rate management
More Details
Slides
Contact Us