Introducing Opencode USSD Center (iUSSDC) – the ultimate smart USSD gateway
As a pioneer in USSD technology, Opencode Systems has been involved in the world of mobile network systems for the past 20 years. As of 2020, Opencode USSD Gateway is used by more than 50 mobile operators worldwide, which is the best indication of its success.
To understand how a USSD gateway works, we need to go back to the basics and examine the protocol's exact definition.
What is a USSD gateway, and what is its purpose?
Let's start with the fundamental explanation of what USSD stands for. Unstructured Supplementary Service Data is the name of a session-protocol enabling the communication between a mobile device and the servers of a mobile network operator. These specialized messages are transferred via a technology referred to as a USSD gateway. USSD has several different purposes: prepaid callback services, money services, location-based content services, etc.
The difference between SMS (Short Message Service) and USSD is simple. While SMS reaches the SMS center and is either stored or forwarded directly to the recipient, USSD gateway messages establish a direct connection in every USSD session. The connection allows the exchange of data in both ways, meaning that USSD is more responsive compared to SMS-based services.
How does a USSD gateway work, and what are the differences compared to other gateways?
With this type of service, users can send messages to their mobile service providers. These messages are directed to a USSD computer, which then responds to the mobile device with a message that is defined independently by every mobile network operator.
Most often, USSD messages are used for the following purposes:
Balance Check: the USSD gateway is used to inform consumers about their prepaid mobile service balance. The user sends a request (PSSR), and the USSD gateway guides it to the appropriate application. The application then returns an acknowledgment using the USSD gateway that the user receives on their mobile device;
Marketing/advertising purposes and interactive services: applications frequently use USSD for promoting certain products and services;
Roaming: A USSD gateway is particularly helpful while the user is in roaming mode. All roaming networks support USSD services, meaning that all USSD messages are guided directly to the user's network operator via the USSD gateway. In short, the USSD gateway allows the users to have access to their home network environment and the same applications they usually employ, regardless of the network they are currently in.
The purpose of a USSD gateway is to transfer USSD messages sent from a given network to a particular service application and return them. Every USSD gateway's primary purpose is to route messages aiming to either request information or deliver a service.
SMS and MMS gateways are generally different services, as they provide temporary storage, while USSD is real-time session technology. With a USSD gateway, the connection between the mobile device and the application is direct: the USSD gateway connects and maintains the session between the mobile device and the application.
What are the advantages of Opencode USSD Gateway?
Opencode developed and launched its first USSD Gateway (later known as USSD Center) some two decades ago – in early 2000. Needless to say, the company is still setting the standard for the ultimate and smart USSD Gateway. Being a pioneer in the USSD gateway field is a responsibility. Opencode Systems is pleased to provide modern technological solutions to many mobile operators that appreciate Opencode iUSSD Center's advantages.
Opencode iUSSD Center is the preferred multi-service and fully open USSD Gateway platform. It allows the creation of cross-channel and multi-level services, as well as fast development of different USSD applications. The numerous new business opportunities that arise from employing Opencode USSD Gateway are what our customers appreciate the most.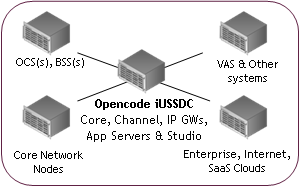 Our USSD Gateway allows instant and secure interaction with different network applications. This is beneficial for increasing application usage, as subscribers are encouraged to perform quick and smooth operations. Opencode USSD gateway is usually an excellent choice for transaction-based financial and mobile services because of the platform's ability to deliver swift response times and quality interaction.
Opencode USSD Gateway can easily integrate with existing and new SMS, WAP, STK, and other mobile applications after a proper IP reconfiguration – in this way our USSD Gateway makes all those application available via the USSD channel as well.
APIsWhen Opencode USSD Gateway and Opencode iSDP Super Application Server are coupled together they allow operators to provide third parties with the opportunity to create and deploy their own USSD services without compromising network security. And these third-party applications are becoming increasingly popular with some of our customers having hundreds in their Network. Utility payments, marketing, mobile banking, location and news services, food order are just part of the opportunities supported by our USSD Gateway.
What are the main features of Opencode USSD Gateway?
Operators choose Opencode USSD Gateway for a reason: it is an open-service and cloud-enabled platform allowing swift service creation and customization. This means that the opportunities for new applications in both IMS and Legacy networks are virtually unlimited. The USSI function of the USSD Gateway enables applications to run in IMS networks without re-development. Opencode USSD Gateway eliminates the typical CSFB (Circuit Switched Fallback) problems caused by 4G and 5G networks not supporting USSD. The platform guarantees seamless service continuity.
The highlights of our USSD Gateway include:
USSD All-G and USSI IMS/CSCF/CSFB conformance;
In-house developed Sigtran MAP and IP SIP stacks, as well as Menu Browsing Server;
Web-based Studio and simulators with do-it-yourself cross-channel and multi-language service creation and deployment;
Multi-HSS, Multi-OCS, Multi-BSS Network Access;
Multiple Service Access with 50+ external integration interfaces and standards;
Multiple Enterprise Access allowing manageable third-party APIs;
Interactive Broadcast and Sponsoring;
SMS_MT Network Interface;
Opencode SaaS Cloud-ready.
What makes Opencode Systems the leader in USSD technology?
Opencode Systems' vibrant history in bringing innovation includes creating the original USSD Gateway (USSD Center). Our teams' fundamental drive attracts a diversity of like-minded business partners: we all aim at making mobile networks open and creative.
Everyone at Opencode Systems group is proud to stand behind the cutting-edge USSD gateway technology that moves numerous service-centred networks forward to impeccable user experience.
Introducing Opencode iUSSD Center (iUSSDC) – the ultimate smart USSD gateway
What is a USSD gateway, and what is its purpose?
How does a USSD gateway work, and what are the differences compared to other gateways?
What are the advantages of Opencode USSD Gateway?
What are the main features of Opencode USSD Gateway?