Expose Network Services as Mobile Apps and
Add-ons
Opencode iCarrier App v2 helps Mobile Network Operators (MNOs) expose quickly and easily almost any network service as a mobile app or app add-on. The solution improves the look & feel of network services and simplifies their custom settings, subscription, charging and use. Mobile users are provided with experience as if network services have been enabled from either iTunes or Google Play, while, in fact, these network services continue to be driven by the mobile network.
Maintain end-user focus on the network and develop monetization
By enabling app-like network service experience Opencode iCarrier App v2 helps MNOs better value their mobile network and maintain end-user focus on it. This opens new opportunities that allow network services to come with more diversified end-user options and pricing tailored to specific levels of usage. It also brings new synergies with in-house and third-party designed network apps and add-ons, in-app notifications, advertisements and purchases.
Example of integration: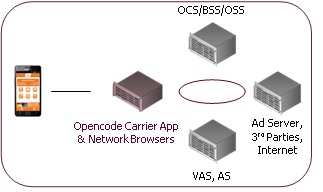 Highlighted features:
Quick and easy exposure of network services as Mobile Apps
Seamless integration with Opencode Network Browser driven network services
App platforms - iOS, Android, HTML5
DIY (do-it-yourself) Carrier App Studio
On-premises or On-cloud Carrier App Studio
App Layout Editor and Add-on Builder
Live end-user and network simulator
App and Add-on life-cycle management
Multi-channel user access (App, Facebook, Web, USSD, SMS, IVR)
On-device and in-app push notifications
In-app advertisements
In-app purchases