IDE for Converged Network Services & Mobile Apps
Opencode Studio is a an end-to-end multi-channel, multi-provider and multi-network Service Creation Environment for developing, testing and deploying sophisticated network services and mobile apps. It allows allows effortless on-premises and in-the-cloud service deployment.
A revolutionary do-it-yourself multi-channel Studio for design, creation and deployment of core network services
Today's "I-want-it-now" users make mobile operators to take on a new and dynamic approach to core network services. Opencode Studio is an essential network framework technology unlatching mobile operators' in-house innovation while answering the high market expectations. In regards to network service design and deployment Opencode Studio provides new dynamic approach. It brings many do-it-yourself network innovations such as revolutionary Single-logic Multi-channel Delivery and Service Layers. Service Layers, for example, are easily developed, changed, reused and orchestrated, thus making sophisticated network services less complicated, more effective and very powerful.
Example of integration: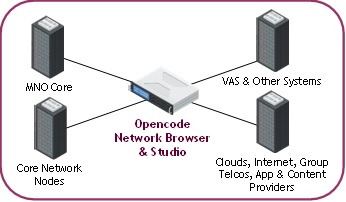 Highlighted features:
Supports 2G/3G/4G/5G mobile network architectures and standards
Non-intrusive network architecture
Hyper-language driven service execution and orchestration
Service Brokering
Per service state machine design
Core Network & VAS service creation studio
Single-logic, multi-channel delivery
SOA Governance Control Cycle
M2M Business driven domains and enablers
Service and API definition
Any-to-any service exposure
Off-the-shelf Core gateways
Off-the-shelf Channel gateways
Off-the-shelf IP & Integration Gateways
Any-to-any protocol/API translation
Protocol access and manipulation at message and parameter level