Opencode iCell Broadcast Entity (iCBE) - a distinct public alert system with cutting-edge utility
Put in simple terms, a Cell Broadcast Entity (CBE) is the mere foundation and the first necessary prerequisite needed for the proper function of any public alert system. It serves as a kind of public alert system control panel that underpins the formulation, division, and distribution of the public alert system messages before they are ultimately sent out to the citizens.
Opendode iCell Broadcast Entity is a distinguishable tool with multiple functionalities that empowers rapid and secure public alert system utilization. What is there to keep in mind and understand before assigning iCell Broadcast Entity as your trusted public alert system tool? Let us tell you all about it in the following paragraphs.
iCell Broadcast Entity public alert system - essence and applicability
A public alert system based on the Opencode iCell Broadcast Entity and iCell Broadcast Center equipment delivers emergency alerts to pre-targeted geographic areas over the mobile network. The public alert system can be utilized in various cases when an early public warning is needed, including weather and climate disruptions, geological hazards, industrial disasters, medical emergencies, etc.
A public alert system is, by definition, a tool of the government officials in the given country. Public alert system messaging is strictly regulated in the local alerting protocol - it usually consolidates the work of authorities, specialized agencies, and mobile network operators, who utilize the mobile infrastructure to deliver the most rapid and serviceable reverse 911/112 to the citizens.
Thus, the introduction, installation, and maintenance of the public alert system is an obligation to the state and its representatives. Opencode has negotiated and installed tens of public alert system pieces of equipment worldwide, so we are thoroughly prepared to answer your questions and provide expert guidance through the entire process.
iCell Broadcast Entity public alert system - standards and brief technological explanation
Opencode iCell Broadcast Entity public alert system upholds the production and distribution of wireless emergency warnings throughout a chosen set of geolocations. When using a new generation public alert system, authorities can flexibly introduce the parameters and content of the message, process them to the iCell Broadcast Center, and distribute them to the mobile radio access network.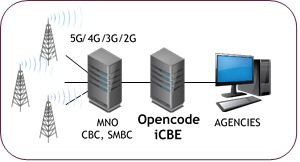 Our public alert system is fully compatible with all the applicable standards, regarding the mobile network specifics, the official industry norms, and device heterogeneity. When choosing the Opencode public alert system, you assure yourself with equipment, suitable for:
5G/4G/3G/2G 3GPP mobile network standards;
EU-Alert, WEA/CMAS, and ETWS public alert system specifics;
Android, iOS, and every other popular mobile operating system;
CAP 2.1 and ATIS public alert system industry protocols.
In addition to standard compliance, our top-notch iCell Broadcast Entity public alert system control panel is also devised with numerous additional features, explained below.
iCell Broadcast Entity public alert system functionality options
As a part of creating a highly efficient public alert system management tool, we equipped our iCell Broadcast Entity with the following options:
A precise definition of alert types and built-in templates with Message/CAP ID mapping;
Public alert system scheduling, supporting various options for time-windows, duration, repetition, etc.;
Multi-language public alert system panel and support, in compliance with TS 23.038 and ISO 639;
Multi-layer geographic information system - an integrated offline map configurable with different areas of concern;
Different types of iCell Broadcast Entity public alert system access levels for System administrators, Agency administrators and Agency users;
Adept public alert system audit logs for tracing the history of the user's WEB activities;
Options for unified and distributed public alert system integration for different purposes and requirements.
As a result, the public alert system of Opencode has the potency to send out emergency messages with diverging location, repetition, priority, severity, and tens of other criteria. Having these options plays a vital role in disaster management and can actually be life-saving for large groups of citizens.
The installation of an additional expander, on the other hand, can let the public alert system reach a number of additional channels such as radio, TV, standard SMS, PTV, public displays, sirens, social networks, and more.
iCell Broadcast Entity public alert system advantages
All in all, the public alert system components of Opencode guarantee numerous advantages that are of crucial importance when the safety of the community is concerned.
First of all, the public alert system of Opencode is super-fast and able to deliver messages to millions of users in just a few seconds.
It is also standardized to comply with all preeminent industry standards, mobile networks, handheld devices, and individual in-state infrastructure.
Our public alert system is designed to auto-recover in cases of disaster, thus ensuring an impeccable function when needed the most.
As a leader in the industry, we have also taken care to develop a flexible public alert system able to meet the specific needs of all individual state clients. This is clearly explicated through the set of functionalities described above.
Last but not least, our public alert system is already installed and proven to work efficiently in numerous territories, where it continually ensures the safety of citizens in times of disturbances.
Get more information about our iCell Broadcast Entity public alert system
Our extensive background and ongoing commitment to the public alert system distribution process have taught us one vital lesson: the user experience matters just as much as the product itself. That is why we are striving to deliver sound user support through all important phases of your endeavor: from the decision-making process to the thoughtful installation and training, and afterward.
Following the COVID-19 outbreak, Opencode investigated what channels authorities had used to keep citizens safe and informed. Check out our free Whitepaper Was Cell Broadcast the Right Emergency Alert Channel For COVID-19 Pandemic? to see how mass communication technologies fared against each other.
Please do not hesitate to contact us - our team is always happy to provide all additional details, to answer all incoming inquiries, and to give all kinds of information regarding our Cell Broadcast Entity.
Opencode iCell Broadcast Entity (iCBE) - a distinct public alert system with cutting-edge utility
iCell Broadcast Entity public alert system - essence and applicability
iCell Broadcast Entity public alert system - standards and brief technological explanation
iCell Broadcast Entity public alert system functionality options
iCell Broadcast Entity public alert system advantages
Get more information about our iCell Broadcast Entity public alert system