Security Shield: Enhanced Security for Opencode iSDP R5-S
Opencode Security Shield, a vital component of Opencode iSDP R5-S, is a comprehensive security solution that fortifies the entire system with advanced protective measures. Designed to adhere to the rigorous standards set by the Open Web Application Security Project (OWASP) and the Center for Internet Security (CIS), Opencode Security Shield ensures heightened security across all levels of operation.
Tailored Security Solution for Network Services and APIs exposure
As cyber threats continue to evolve, maintaining a robust security framework is of paramount importance. We recognize this need and therefore integrate Opencode Security Shield within iSDP R5-S to provide a multi-layered defense against potential vulnerabilities and attacks. Having a configurable security layer, Opencode Security Shield offers a tailored security solution for Internet and partner exposure of network services, application web GUIs, and APIs while adhering to the stringent requirements of OWASP and CIS.
Expanding Monetization Options while Maintaining High Security
With Opencode Security Shield on board MNOs can expand their monetization options beyond their own business operations while maintaining a high level of protection. Whether it involves granting access to network services, enabling web-based GUIs to third-parties, or exposing APIs for seamless integration, Opencode Security Shield ensures that these interactions take place within a robust and secure environment.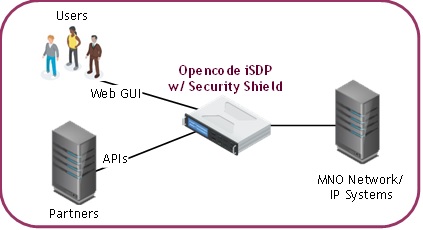 Security Shield Highlighted Features
Sensitive data encryption
SNMP v3 support
File system integrity check
Secure boot settings
Enhanced access control
Network configuration hardening
Disablement of uncommon network protocols
Ensure data retention
Logging and auditing hardening
Backup of configuration and related files
MySQL permissions automatic check
Authentication hardening
Enhanced security of replication traffic
File system permissions automatic check
ICMP redirects blocking