"New-normal" adaptation pushes enterprises to modernize legacy systems like PBX
The shift to remote working brought by the onset of the COVID-19 pandemic made a lot of SMEs (Small and Medium Enterprises) reassess the tools and systems that facilitate the smooth operation of their business. In most cases one of the first systems slated for modernization is the legacy PBX which appeared to be too much of a hassle to support and adapt to the fast-changing environment.

Modernize and expand communication capabilities as business grows
Opencode Mobile VPN (MVPN) is a budget-friendly and highly flexible solution providing a number of different voice communication services to the SMEs. It allows them to adapt swiftly to a growing business helping it to process a higher volume of phone calls without the need of hiring additional staff. It also offers full enterprise mobile telephony solution that considerably improves the communication among SME employees.
Creating new revenue streams in the IMS Core Network
Opencode MVPN expands the traditional connectivity revenue streams as it brings in additional income from related PBX services, subscriptions and user fees. The system easily integrates with the IMS Core, VoLTE or mobile and fixed legacy Core Networks and because it supports all the needed VoLTE and IMS HD codecs it also ensures impeccable voice call user experience that allows MNOs to commit to more demanding SLAs.
Example of integration: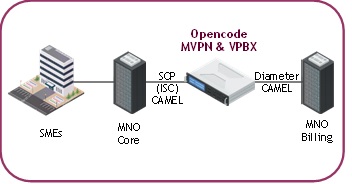 Highlighted features:
3GPP, IETF and RFC standards compliant
Own, in-house developed and customizable SIP/RTP/Camel/Diameter protocol stacks
ISC Interface support
Supports any voice codec the MNO Core Network offers: G.711 or HD Codecs
Auto Attendant IVR Menus
Call Waiting
Call Forwarding
Short Code Dialing for originating and terminating calls
Configurable Call Recording Options - permanent or on-demand
Find Me/Follow Me/Hunting Groups
Call Accounting - threshold, capping and call history generation
SMS over IP delivery to VoIP terminals
Optional - Conference Bridge
REST API exposure function
Web GUI for system management
Flexible CAPEX and OPEX purchase models
On-premise (MNO) and in-the-cloud deployment options