Simplify use of different mobile identities and increase ARPU
In many cases,subscribers need to use several different mobile identities. Until now, this required the purchase of additional SIM cards and devices which by no means is user-friendly and has many limitations.
Several mobile numbers active simultaneously on a single SIM card
Opencode Virtual Mobile Numbers (VMN) service allows current and new mobile subscribers to have several mobile lines active simultaneously on a single SIM card. Activation and deactivation of a mobile number is seamless and can be done at any time, from any access channel. Once the service is activated, mobile users can easily initiate and receive calls as well as text messages and switch between different mobile identities.
Subscription freedom and service options that generate more network revenue
VMN service gives mobile operators the opportunity to generate new subscriptions, stimulate churn–in and grow new revenue. Based on the user's needs, the service subscription can be temporary or recurrent over longer time periods with manual and automatic renewal options. For their different mobile virtual lines, subscribers can set a variety of availability options (weekdays, weekends, particular date and time, etc.).
VMN service comes with all-channel VMN self-care accessible over USSD, SMS, WEB and IVR.
Overall the subscription flexibility and the superior user experience drive user spending and network revenue higher.
Example of integration: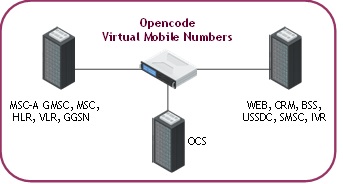 Highlighted features:
Multiple virtual mobile lines in a single SIM
Prepaid and Postpaid virtual mobile numbers
Voice, Voicemail, Text, MMS and Data mobile virtual line service
All-channel Self-Care integration with USSD, SMS, WEB, IVR
VMN Smartphone App (Android, iOS)
VMN Facebook App with Facebook Friends Calling
Single Account Charging
Core Network Implementation
Intelligent Network Implementation
Service Node Implementation