Role of Diameter protocol in today's LTE and IMS networks
In modern networks the Diameter protocol regulates many 4G/LTE and IMS exchanges and links various network elements such as OCS, PGW, PCRF, HSS, MME, CSCF and others. The number of different Diameter interfaces involved in mobile network communications has grown rapidly in recent years thus setting the need in the industry for specialized Diameter based solutions.
Addressing many existing and new Diameter network specifics
Relying on years of hands-on Diameter experience, Opencode iDiameter Gateway can solve various network specifics. For example, when carriers are scaling LTE and IMS networks or implementing 5G NSA, they are facing new network challenges i.e. parasitic Diameter Gy and Gx overload generated by connected mobile devices also known as a "Diameter storm". Proven product track record and platform openness are key assets when looking for specific Diameter solutions.
Opencode proven core and edge network Diameter solution
Opencode iDiameter Gateway offers proven interworking, charging, signaling and profiling features together with flexible API-to-Diameter, Diameter-to-Diameter and Diameter-to-other protocol translation. It can be homogeneously integrated with one or several core and edge network nodes while extending at the same time the possibilities of existing Legacy systems and services. Mobile operators benefit from decentralized, centralized or hybrid Diameter integration options that give them great flexibility in managing their network needs.
Example of integration: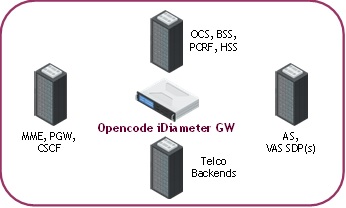 Highlighted features:
Supports 3GPP and RFC architectures and standards
Runs on the top of TCP or SCTP
Interoperability with MME, OCS, HSS, CSCF, AS, PGW, PCRF and other Diameter interfaces
API-Diameter, Diameter-Diameter, Diameter-other protocol (example Camel) gateway
Event and session charging with reservation
Flexible AVPs dictionaries
Decentralized, centralized and hybrid integration options
Single Interoperable Signaling Controller unifying different charging services and Diameter implementations
Diameter service creation add-on
RESTfull APIs exposure to telco backends
Proxy and Caching modes
Supports MSISDN-IMSI resolution
Multi-rate messaging processing