Quickly implement business configurations and manage lifecycle of network services
Competitive mobile markets witness fast changing needs for quick service customizations and more charging options. Moreover, the network must be open and flexible enough to embrace ever-changing commercial offerings. Opencode Partner & Service Manager is a flexible solution that acts as a network business layer helping MNOs manage on the fly business configurations and the lifecycle of network services.
Unconstrained set-up of business configurations cutting short time-to-revenue
Comprehensive pool of configurable modules and parameters allows building almost unlimited number of business configurations. As a result, new product offerings can be defined or bundled up quickly. These offerings are ready to be launched on the market at any time, slashing considerably time-to-revenue.
Design new subscription and charging options using bundles and lifecycle events
Bundling is a key element of the Partner & Service Manager. It allows easy configuration of different subscription options for the same network service or group of network services. A bundle manages lifecycle events like subscription, renewal, charging, etc. These events, one-off or recurrent, are processed according to configurable rules.
Example of integration: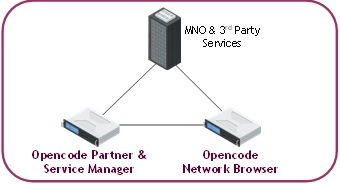 Highlighted Features:
Business configuration layer
Unconstrained design of business configurations
Flexible Partner Management
Comprehensive subscription & lifecycle management of network services
Subscriber-level self-provisioning and service bundling
Subscription Bundles
Parent-Child Service Hierarchy
Service Lifecycle Status
Subscriber Lifecycle Status
Usage Counters & Thresholds
List Management
User Notifications & Alerts
Lifecycle & Charging Events