Mobile Marketing and Advertising across all channels
Operator's Marketing creates offers so as to meet and drive ever changing customer and business needs. Mobile marketing is one of the few tools that provide fast and simple access to a large mass of customers. The creative potential of Mobile marketing is fully utilized when deployed with custom made campaigns across all mobile channels.
Advanced Marketing and Advertising tools
Opencode Campaign Manager offers a comprehensive approach for creation, execution, delivery and monitoring of scheduled interactive surveys, timely promotional alerts, bespoke mobile voting and key advertising messages. Mobile operators independently or together with governments, businesses and market research companies, can now easily increase the exposure of their marketing campaigns via mobile voting, surveys, polls, competitions, promotions, advertisements, quiz applications and many more.
Better engage, learn, adjust and retain
Opencode Campaign Manager allows mobile operators to engage and interact actively with their subscribers in real-time. Operators can also monitor progress, performance, and behavior metrics thus understanding better their customers. This valuable feedback helps MNOs adjust their offers and effectively retain their subscriber base.
Example of integration: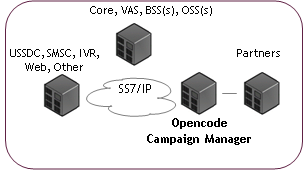 Highlighted Features:
Business configuration layer
Unconstrained design of business configurations
Comprehensive subscription & lifecycle management of network services
Subscriber-level self-provisioning and service bundling
Subscription Bundles
Parent-Child Service Hierarchy
Service Lifecycle Status
Subscriber Lifecycle Status
Usage Counters & Thresholds
List Management
User Notifications & Alerts

Lifecycle & Charging Events