Solving VoWi-Fi integration within the mobile network
VoWi-Fi addresses indoors coverage challenges for locations that are typically difficult to reach with the macro mobile network. This basically allows MNO subscribers to make calls without having a mobile signal, e.g. being at a remote location or in a building with thick walls. The introduction of such additional Radio Access Technology (Wi-Fi) into the existing Network requires the deployment of an intermediate Gateway.
Major network improvement on a low investment
Opencode iTWAG or Trusted WLAN Access Gateway is exactly that link that facilitates the connection between trusted Wi-Fi networks and the MNO's existing Evolved Packet Core (EPC) network. The system is not limited to functionalities like Authentication, Authorization and Accounting Proxy, but it can also perform tasks like IP Traffic Binding. Opencode iTWAG allows MNOs to expand their reach, improve QoS and tap on otherwise lost revenue without a major CAPEX investment.
High security when connecting to non-3GPP Trusted Networks
iTWAG allows MNOs to provide VoWi-Fi calls with the same security level as for the cellular-only ones. This is so because once a secure connection to a trusted Wi-Fi network is established, the security keys and subscription information are fetched from the Home Subscriber Server (HSS) via an AAA node so as to authenticating the user's access to the EPC on a particular Access Point Name (APN). Following a successful authentication, the user's device can seamlessly access the MNO's Packet Gateway (PGW) and enjoy VoWi-Fi calls.

Example of integration: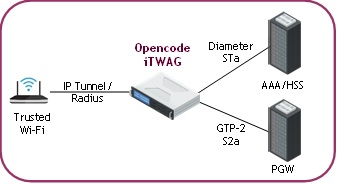 Highlighted features:
Compliant with 3GPP, IETF and RFC standards
Own, in-house developed and customizable Diameter and Radius protocol stacks
Diameter STa interface to the 3GPP AAA server
S2a (GTP-v2) tunneling interface towards the PGW
Authentication, Authorization, Accounting relay between Wi-Fi Networks and 3GPP AAA servers
Binding subscriber's IMSI with the equipment's MAC address
Wi-Fi IP Traffic Tunneling conversion into the Mobile Network GPRS Tunneling
Custom AVPs (Attribute Value Pairs) dictionary support
Diameter transport over TCP or SCTP
Web GUI for system management
Flexible CAPEX and OPEX purchase models
On-premise and in-the-cloud deployment options
Business reports and statistics
Multi-level logging
Fault handling and SNMP alarming
Simplex, high-available and geo-redundant configurations