The cornerstone of mobile network evolution
In line with the mobile network industry changes, a revolution has been going on in the closed legacy IN environment. Mobile Network Operators (MNOs) face high demand to market new advanced offers and services rather than the traditional IN-based ones. Opencode iSCP solves MNOs network issues with nodes' generation compatibility by enabling Interworking Function (IWF) between Diameter-native new generation Online Charging Systems (OCS) and SS7-based legacy Core Network.


Powerful protocols binding engine
Opencode iSCP is built on top of the in-house developed and patented Network Browser technology that uses specialized hyper language. It binds incoming to outgoing traffic by maintaining sessions, orchestrating and mapping protocol parameters. Opencode iSCP comes with an array of Telco Gateways and IT connectors to ensure physical layer connectivity as well as seamless parsing of messages and parameters.
Example of network integration: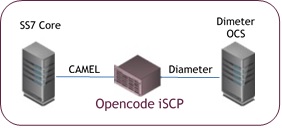 Highlighted features:
•
Support of any-generation mobile network
•
Standard compliancy (GSM, 3GPP, ANSI, ITU, IETF, RFC 4006)
•
Core network interfaces translation
•
Protocol manipulation (at message and at parameter level)
•
CAMEL to Diameter Translation
•
Standard Telecom Charging Procedures Support
•
Flexible routing configuration
•
Hyper language-driven Network Browser technology
•
Unsurpassed DIY Web Network Studio
•
Extensive list of Core Network and Core IT gateway modules
•
Intelligent Peripheral announcements assistance