Reliable SIM data management throughout the entire SIM lifecycle
SIM card data management has always been an important activity for MNOs. Over-the-air (OTA) is a cost effective way to manage SIM data such as SMSC GTs, network brand name, preferred roaming networks, dual SIM numbers, etc. Silent SIM updates and changes (requiring no subscriber intervention) has been further simplified and automated by Opencode.
Opencode SIM OTA Center provides secure multi-vendor card management throughout the entire SIM lifecycle. Based on Opencode's years of world-class core messaging and signalling experience, the solution offers a full range of support and management tools for maximum performance.
Flexible acquisition, deployment and over-the-air transport options
The platform, delivered either on CAPEX or OPEX model, can be hosted locally or as a service in the cloud. The solution can be deployed with the MNO's existing SMSC or more efficiently with a built-in SIM OTA SMSC. Other over-the-air transport options could be USSD and IP.
Remote File and Applet Management support
Remote File Management provides mechanisms for handling the SIM file systems. Operators can set and update SIM card essential data such as customer service, voicemail, service activation/deactivation, etc.
Remote Applet Management provides mechanisms for installing or removing an applet on or from the SIM card. Subscribers can enjoy various Operator services enabled by such SIM applets.
Example of integration: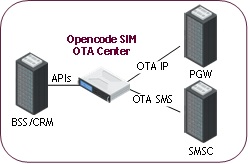 Highlighted features:
Compliance to 3GPP TS 23.048, TS 31.115
Built-in SIM OTA SMSC
Over-the-air transport on SMS, USSD and IP
Silent over-the-air SIM reading and updates
Automated and manual update schedules
Prioritization and repetition mechanisms
Management of SMSC, voicemail, network name, dual SIM numbers, etc.
Management of Operator Specific Dialing Numbers (SDN)
Management of Fixed Dialing Numbers (FDN)
Management of preferred roaming list
Flexible CAPEX and OPEX purchase models
On-premise and in-the-cloud deployment options