Network services infrastructure for wider user reach and more commercial options
One of the main priorities for the mobile industry nowadays is to have modern and open service delivery tools that allow acting fast and easily launching new and complex network services.
This trend is driven by the business imperative demanding faster introduction of new services and by the MNOs' need for a wider user reach, with more commercial options for all types of services.
A key step towards the services-centered mobile networks
Opencode iSDP effectively manages all business, technology and operating network aspects. Architected as a loosely coupled SDP, the preferred integration method can be a services hub, bus or API layer. Its service design Network Studio removes the network complexity and allows easily addressing various specifics across multiple network nodes, layers and protocols. Today's field-proven and rapidly growing list of examples include Mobile VPN, virtual numbers, call completion,call screening, reverse billing, charging and presence services, and many others.
Example of integration: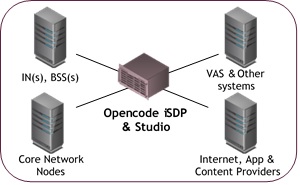 Highlighted features:
Core VAS service creation studio
Hyper-language driven service execution and orchestration
Service Brokering
Core gateways with ETSI 3GPP and ANSI conformance including MAP 3 and CAP 4
Web-based Studio and simulators with DIY (do-it-yourself) multi-channel and multi-language SCE
Channel gateways (IN IP, USSD, SMS, IVR, WEB, App, Facebook)
IP Gateways (50+ off-the-shelf M2M protocols, APIs and Web services)
Interface translation with seamless protocol access and manipulation at message and parameter level
Rating and billing policy manager
Enterprise Service Bus with freely definable and manageable 3rd party APIs and API Portal