Transform unsuccessful calls into a strong revenue stream
Opencode Call Completion Suite (iCCS) combines a number of services that allow MNOs to easily complete and monetize a large number of calls that have failed initially. The solution is available on all generation networks and for all type of subscribers also when in roaming.
Complete calls and generate more revenue
Opencode iCCS allows subscribers with insufficient balance to complete calls and use data, thus creating a new opportunity for the MNO to charge calls and monetize on the network. Conveniently, the suite is supplemented by paid subscriptions, time- and event-based call control options and sponsored content.
Flexible call handling with a multitude of network and subscriber actions
Unsuccessful calls dropped by the network are now completed in real-time or at a later stage, on an automated, semi-automated or call-by-call basis. If desired, subscribers can control iCCS services from all mobile channels or with a dedicated app, and easily filter/block calls, manage lists and define call priorities.
Example of integration: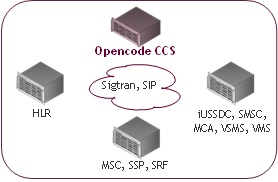 Highlighted features:
Automated, semi-automated or on a call-by-call basis call completion
Busy connection call completion
Out of network call completion
Poke call completion
Roaming call completion
Voice call, SMS, data credit
Voice call, SMS, data gifting
Real-time, network- and user-controlled actions and notifications to A and B parties
SMS, Voice SMS, Voice to MMS notifications
Call priority and availability set-up
Simple management over all mobile channels (USSD, SMS, IVR, Web, App)
Flexible prepaid/postpaid charging
One-time and recurrent subscription management
Seamless integration with existing infrastructure
Dynamic interaction with appointed external systems