Utilizing Mobile Infrastructure for Location-based Services
Opencode Cell Lock and Home Zone (CLHZ) offers an innovative solution for location-based mobile and broadband services. Our cutting-edge technology allows MNOs to leverage their existing infrastructure and provide fixed broadband Internet, voice, and messaging over 4G/5G networks.
Opportunity to Acquire Chunks of the Fixed Network Market
Over the last years, Fixed Networks started being less competitive because of the ever-increasing bandwidth demand and high CAPEX and OPEX costs. Here Opencode CLHZ can help MNOs win part of that market by capitalizing on their established radio infrastructure and introduction of cell locked or fixed offers to subscribers. The same infrastructure allows expanding into other innovative services and a path to fully embracing Internet of Things (IoT) opportunities.
Easy to Define Fixed Network Service Substitutes
Opencode CLHZ enables MNOs to lock user equipment (UE) access to the mobile network within a specific geographical area, known as the "Home Zone", or to a predefined mobile cell/cells. This ensures seamless connectivity and tailored services to subscribers, while mimicking a fixed network. The definition of the Home Zone or the group of cells is very flexible and can easily be expanded, downsized, or otherwise customized based on the network requirements.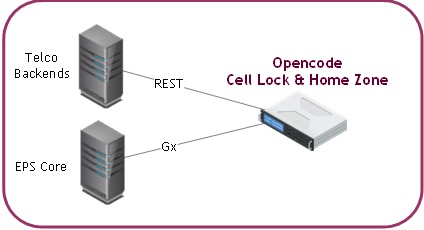 Cell Lock & Home Zone Highlighted Features
Gx interface support
Support of additional AVPs in Gx interface
Adaptive architecture – support of Gx Server and Gx Client (optional)
Diameter Redirect Message support
Flexible Home Zone definition
Support of Cell Neighbors
APN-based service authorization
RAT Type-based service authorization
IMSI and IMEI-based service authorization
IMSI-IMEI lock
TAC-based service authorization
Support of whitelist/blacklist
Provisioning REST interface exposure