Game-changing telecom app server
Run complex multi-channel 3G/4G/5G telecom logic and integration without hassle.

Opencode Network Browser is a next generation telecom application server. It can manage and execute hundreds of network and cloud driven services in a conventional or in a virtual network environment. Network Browser is a patented Opencode network technology allowing orchestration and delivery of network services in an undifferentiated way and across all mobile access channels. Running mobile services with Network Browser gives mobile operators the freedom and versatility to seamlessly create, deploy and manage voice, messaging and data services while achieving better user-reach in our everything-everywhere mobile world.
Telecom network technology, foundation for new operator creativity & business synergies
Opencode Network Browser and Opencode Studio is a technology bundle that translates mobile operators' ideas and creativity into reliable subscriber services in days instead of months. Mobile operators will benefit from a harmonized network services experience across Network, IT and Marketing teams. This new network technology will increase operators' business and operational performance while will dramatically decrease time-to-market for network services.

Example of integration: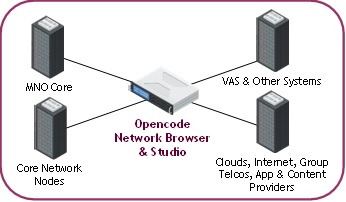 Highlighted features:
Supports 2G/3G/4G/5G mobile network architectures and standards
Non-intrusive network architecture
Hyper-language driven service execution and orchestration
Service Brokering
Per service state machine design
Core Network & VAS service creation studio
Single-logic, multi-channel delivery
SOA Governance Control Cycle
M2M Business driven domains and enablers
Service and API definition
Any-to-any service exposure
Off-the-shelf Core gateways
Off-the-shelf Channel gateways
Off-the-shelf IP & Integration Gateways
Any-to-any protocol/API translation
Protocol access and manipulation at message and parameter level