Processing Network Events to Provide Better Network Services
Opencode's File Processor is a powerful tool designed to facilitate the creation of event-driven network services. With its robust processing and analysis capabilities, it efficiently handles various file types, including CDRs, CSV, log files, and more. This versatility allows it to be utilized in a wide range of applications within the MNOs business and marketing operations.
Analyzing Any Event for a Seamless Launch of New Network Services
One of the key features of Opencode's File Processor is its ability to detect and react to configured events. Whether they are simple or composite events, the software recognizes these triggers and initiates the execution of one or multiple service logics. This event-driven approach enables the seamless launch of various network services, such as Beep Call, Call Notification, Fraud Detection, Subscriber Lifecycle Management, Contextual Campaigns and more.
Near Real-time Information Helping for Better Data-driven Business Decisions
By processing and analyzing files in near real-time, Opencode's File Processor provides valuable insights and actionable information. It empowers MNOs to make informed decisions based on the data extracted from the files. This data-driven approach enhances operational efficiency, improves customer experience, and enables proactive management of network services.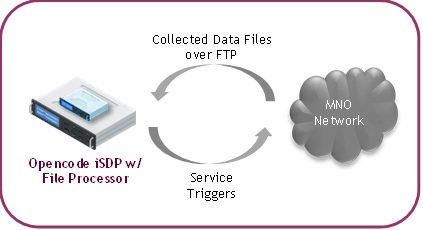 File Processor Highlighted Features
Any-to-any format conversion
Flexible input file format configuration
Multiple criteria event detection
Defined metrics detection support
Detection of field existence
Predefined validation schemes
Task monitoring
File status support
Single file multiple processing support
File integrity validation
File format validation
File-to-API conversion support
Unconstrained design of business configurations
Scalability
Seamless integration
Modularity