Opencode Systems' SMS Center (SMSC) platform – essence and features
Every mobile service user on the planet takes advantage of the services and possibilities of an SMS center every day, without even realizing it. Every SMS sent and received by the users is processed and delivered by employing a particular SMS center (SMSC), determined by their location and their mobile services provider.
Opencode Systems has a long track record of developing this kind of widely employed technology. To introduce the company's SMSC solution adequately, though, we will need to take a closer look at its basics first.
What is the definition of an SMS Center?
The SMS center is a vital part of any wireless network, as it handles all SMS operations. After sending a short message from your mobile device, it needs to pass through an SMS center and sometimes through an SMS gateway before it eventually reaches the final recipient. The SMS center is responsible for storing and redirecting the message.
Such a system is a must for every network, as short messages cannot be sent directly between mobile devices. Sometimes, the destination of the message cannot be reached due to the unavailability of the recipient caused by poor mobile coverage or switched off device. The SMS center then regulates the process by storing the message and forwarding it later when it's possible.
Every network operator needs an SMS center, as it is the system that handles all of the SMS traffic. Using a third-party SMS center is often a reliable solution. The fact that it is not located within the wireless network of the operator does not affect the quality of the service at all.
How exactly does an SMS center work?
When a message is sent from a mobile device, it reaches the Short Message Service center (SMS center) first. Next, the SMS center needs to send a request to the so-called HLR (Home Location Register) to find the recipient. After the HLR receives that request, it returns a response containing the status of the recipient (either active or inactive).
If the recipient is active, the SMS center immediately forwards the short message to their mobile device. In case the device is offline, and therefore inactive, the short message is stored at the SMS center for a certain period of time before it is redirected once the destination is reachable. A message is confirmed to be sent only after the SMS center receives a verification for that.
Every mobile device needs to be connected to an SMS center to send and receive short messages. The center's address is usually a mobile phone number and is typically pre-configured depending on the mobile service provider's policy. Every user is connected to the SMS center once they insert their SIM card into the mobile device.
Another essential function of every SMSC is its ability to interact with applications. A database of phone numbers can be linked to the center. Plenty of other integrations and functionalities are possible as well.
What makes Opencode SMSC the next generation in texting technology?
Messaging technology is continually evolving, meaning that new challenges arise due to all the modern-day requirements. Opencode Systems have put all of their broad experience and knowledge into the design of a sophisticated SMS center (SMSC).
Opencode SMSC features advanced first delivery attempts, as well as relaible tracking, storing, forwarding, filtering, monitoring, and charging functions, making it a rather thoroughgoing solution. Opencode SMSC supports P2P, A2P, P2A, and A2A messaging.
The high-end platform allows operators to track all messages by a set of advanced criteria, such as status, application, subscriber, delivery date, keywords, type, etc. Monitoring of MO/MT/AO/AT short messages to or from predefined subscribers or apps is possible with this SMSC service too.
What are the advantages of the Opencode SMS Center?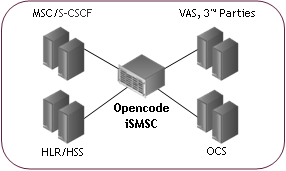 The SMSC platform guarantees messaging service continuity in 4G/IMS/LTE and incorporates state-of-the-art FDA and IP-SM-GW delivery. Operators and third parties have unlimited autonomy to design innovative apps and create partnerships thanks to the integrated service creation studio and the built-in API exposure of high/low level SMSC objects, services, methods, and core signaling.
Needless to say, a reliable SMSC system can significantly increase an operator's revenue. Opencode Systems' SMSC platform can support thousands of transactions every second. This makes it the perfect solution for rapidly growing networks and different applications. The SMSC system features several complex messaging services, such as virtual mobile numbers, missed call notifications, mobile number portability, roaming notifications, etc.
This SMSC solution offers a built-in and ready-to-use 4G/LTE integration. The SMSC supports 3GPP SIP, which allows flawless and immediate integration with S-CSCF. Here are some of the features of the SMSC platform:
SMS Direct/Gateway;
Cell Broadcast and USSD interface;
Campaign management;
Delivery notifications;
Large Account Management;
Application-based and keyword-based routing;
Which are the key benefits of the Opencode SMSC platform for the operators?
Wireless network operators will be happy to discover the plenitude of SMSC's key benefits, some of which include:
Several integration and external interfaces;
Hyper-language driven messaging technology;
Wide range of built-in features, such as flexible retry policy;
Simplified subscription to promotions and services;
Fast market launch of newly-introduced SMS services.
Which is the company behind this state-of-the-art SMSC?
Opencode Systems is a well-known company in the world of mobile network solutions and services. The telecommunication services delivered by Opencode are dedicated to open systems for Telco-over-Cloud and All-G mobile networks.
The creative approach and decades of experience are consolidated to create innovative solutions and platforms. Some of the specialized and patented pieces of technology include Network Browser & Studio, and multi-channel converged services core network technology. They are often the underlying technology of most mobile services used by consumers; despite the fact they often remain invisible to the eye.
Opencode Systems is honored to help 60 mobile operators in more than 50 countries all over the world to deliver their services 24/7 and answer all their customers' needs and expectations.
Opencode Systems' SMS Center (SMSC) platform – essence and features
What is the definition of an SMS Center?
How exactly does an SMS center work?
What makes Opencode SMSC the next generation in texting technology?
What are the advantages of the Opencode SMS Center?
Which are the key benefits of the Opencode SMSC platform for the operators?