Bring more value to subscribers by reporting all their unanswered and uncompleted calls
With Missed Call Notification service mobile subscribers get the insurance to have all missed calls reported even if their phones are switched off, out or in bad network coverage.
Stimulate call completion in markets with low voicemail usage
Missed calls are typically routed to voicemail. However calls are often released without any voice message. Frequently voicemail service is even not activated by subscribers and thousands of missed calls are lost uncompleted and not charged.
Boost call completion and revenues
Thanks to significant increase in call completion, Missed Call Notification service generates new revenues for the operator.
Smart SMS missed calls service
The SMS notification service consolidates missed calls information minimizing the number of SMS alerts while reporting details of all missed calls. While scrolling the SMS notification the subscriber can intuitively select a caller ID and press the call button. As consequence he will be automatically connected to the caller.
USSD and SMS pull facility
Subscribers have the facility to ask information about missed calls by sending an USSD or SMS. Typically the network returns missed call information by SMS. Lately operators have successfully introduced USSD missed calls check providing on-demand information about the latest 5 missed calls.
Example of integration: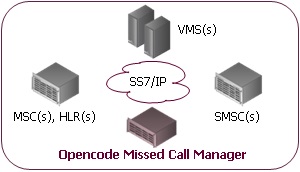 Highlighted features:
All generation network integration(Conventional, VoIP, hybrid)
Scaling to millions of BHCA
STP (signaling transfer point) or MCP (monitoring connection point) Configuration
Smart Consolidated Alerting – minimizing the number of SMS while reporting all missed calls details
Direct SMS Alerting (offloading SMSC)
Language Management – Each subscriber receives SMS notifications in its own language
One-touch Caller Management – Allow one-touch call-back or add caller to address book
Roaming Support
USSD and SMS Pull Mechanism
Availability Alert – Notifies the caller by voice or SMS for available B party.
Temporary Voicemail – Dynamic creation of temporary Voicemail boxes (for non-VMS subscribers)
Voicemail Subscribers Alerts – for those left with no voice message.
Handling of expired notifications
WEB based OMC and administration
Real-time QoS monitoring
SNMP alarming
Non-Redundant, Redundant and Geographical Redundant platform architectures