Deliver dynamic content to mobile users in specific geographical area
Opencode iCell Broadcast Center (iCBC) allows mobile operators, content providers and government authorities to deliver early disaster warnings, other useful information or marketing promotions to mobile subscribers based in or entering a specific geographical area. CBC messages can be sent on different channels and cover areas from a single radio cell to clusters of cells or even the whole network.
Seamless operation and utilization of the Cell Broadcast network technology
Opencode iCBC comes with an intuitive Cell Broadcast Entity (CBE) user interface for seamless operation by MNOs and their partners. Thanks to an available external interface the CBE can be easily integrated with the MNO messaging infrastructure and thus generate more revenue from existing and new network applications and third parties.
Universal user-reach
Cell broadcast technology is typically available on all networks and supported by all handsets. Before use, the service can be activated either manually by the subscriber or automatically by the operator updating the handset's cell broadcast settings.
Example of integration: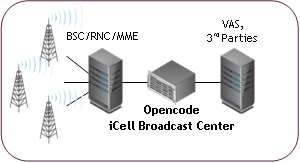 Highlighted features:
Compliance to 3GPP TS 23.041, 3GPP TS 23.038, TS 29.168, TS 22.268
Supports BSC, RNC, MME network entities
Cell Broadcast Entity Web Front End
Text and Binary Message support
Long text and paging management
Multi-language support (TS 23.038 and ISO 639)
Multiple communication parameter control (Message ID, SN, Cell IDs, Coding scheme)
Automatic service activation via USSD/SMS+OTA
Over a map definition of virtual areas
Broadcast campaign to target areas
Channel broadcast calendar with repetition schedule and rate management
User content broadcast and subscriptions
Subscription packages or self-provisioning charging opportunities