The IoT context for MNOs
The last few years have witnessed the emergence of NB-IoT and LTE-M technologies that are more adapted to IoT needs and based on the existing cellular networks with narrow band frequency. The latter ensure wider coverage and better radio penetration, especially indoors and at the same time reduce power consumption for IoT devices, usually smaller ones with low processing and memory capacity. As the NB-IoT and LTE-M also impact the Core Network, a new standard network node becomes a must in the MNO's network - Service Capability Exposure Function (SCEF).
What is SCEF and what does it do?
SCEF exposes securely Network IoT capabilities provided by 3GPP standards using two main modules. The first one is API GW - a front-end module implementing 3GPP APIs exposure to SCS/AS (IoT partner applications). The second one is MTC-IWF - a back-end module serving IoT networks as a Machine Type Communication Inter-Working Function (MTC-IWF). Both modules support standard 3GPP interfaces and call flows.
Why Opencode IoT iSCEF?
Opencode IoT iSCEF is fully compliant with 3GPP standards for Diameter interfaces and can be extended to interact with other Core or IT elements. It supports both Diameter TCP and SCTP transport modes as well as proprietary Diameter Attribute Value Pairs and dictionaries. Opencode IoT iSCEF is built on top of Opencode iSDP super telecom application server which allows it to be upgraded to a full functioning IoT Center with IoT SIMs fleet management and device management. Depending on the MNO's needs, Opencode IoT iSCEF can support all or partial 3GPP interfaces and call flows.
Example of integration: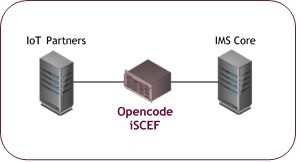 Highlighted features:
Supports Non-IP Data Delivery (NIDD) from/to IoT Devices

Supports Device Monitoring Events

Supports Device Triggering & Coverage Restriction Control

Supports Diameter transport TCP and SCTP

Supports 3GPP interfaces & call flows

Can interact with other Core /IT elements

Upgradable to a full functioning IoT Center
Allows creation of customized call flows