Allow third-party access to boost network creativity and service revenue
Having open network application platform is undoubtedly a key to success. However, getting the right applications at the right time is a considerable challenge for the MNOs. In such case the solution is to safely open the network to external application providers (partners) that can bring new creative ideas and revenue.
Secure Business Access to the Mobile Network
Opencode Partner APIs allow the deployment of business applications within the walled-garden in an open-web fashion. They provide smart and easy-to-use exposure of desired mobile channels, subscribers and assets and unlock the network for business revenue generation.
MNO-controlled partner administration portal
A web-based partner administration portal provides the MNO with tools to manage and control partner accounts and sub-accounts as well as to set different partner and content charging policies. It also provides the MNO's Customer Care with a history of all partner content sent to its subscribers.
Example of integration: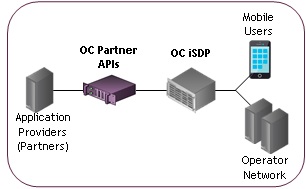 Highlighted features:
Web-based Partner Administration
Web-based Partner self-care Portal
Channel Gateway for content Delivery (SMS, USSD and optionally IVR, App)
Partner interface to upload, categorize and manage content and content services (text and voice)
Partner Service Creation Interface with validation flow
Partner sub-accounts with sub-account content & access rights
Multi-channel end-user content service opt-in/out (via SMS, USSD, Customer Care, Web)
Opt-in/out keywords management
Opt-in/out up-sale of top 3 content services of same category
One-time and periodic content broadcast to end-users